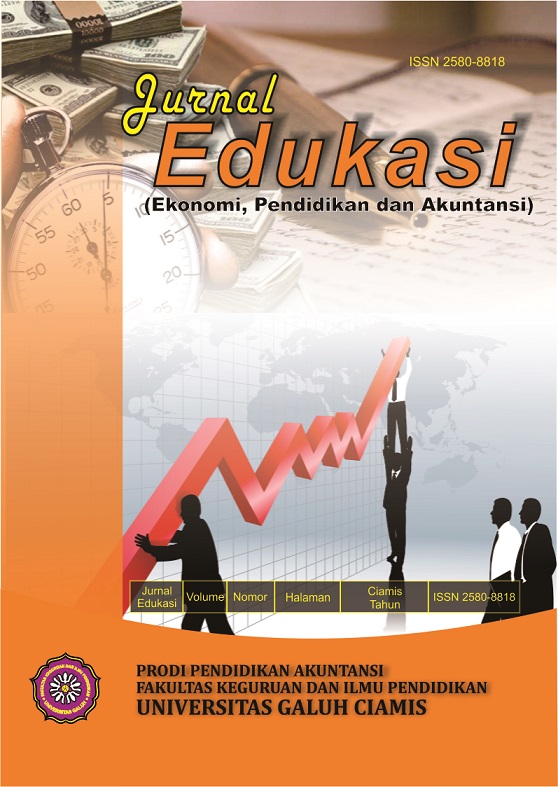 Jurnal Edukasi (Ekonomi, Pendidikan dan Akuntansi)
Jurnal Edukasi Memuat hasil penelitian atau kajian teoritis yang berkaitan dengan pengembangan dan peningkatan professi Guru IPS, Kajian Perusahaan (BUMN dan BUMS), Perbankan, Ekonomi, dan Akuntansi. Diterbitkan secara berkala Dua kali dalam setahun yaitu Bulan Januari dan Agustus. Jurnal Edukasi pertama kali diterbitkan pada tahun 2014 dan telah memiliki ISSN: 2355-357X. Jurnal Edukasi juga memiliki ISSN elecronic: 2580-8818. Sejak 14 Juli 2017 dengan SK ISSN 0005.25808818/JI.3.1/SK.ISSN/2017.07 (14 Juli 2017). Setiap tahun Jurnal Edukasi menerbitkan dua puluh artikel untuk dua isu pada bulan Juli dan Desember.

View Journal | Current Issue | Register
JAWARA: Jurnal Wawasan dan Riset Akuntansi
JAWARA merupakan Jurnal Ilmu akuntansi yang menyajikan artikel pengembangan wawasan atas isu-isu akuntansi terkini (konseptual) dan hasil penelitian akuntansi (empiris) yang mencakup Akuntansi Keuangan, Akuntansi Manajemen, Akuntansi Sektor Publik, Akuntansi Internasional, Auditing, Perpajakan, Keuangan Perusahaan, serta Aspek Perilaku dalam Akuntansi.
p-ISSN : 2355-7478 | e-ISSN :
View Journal | Current Issue | Register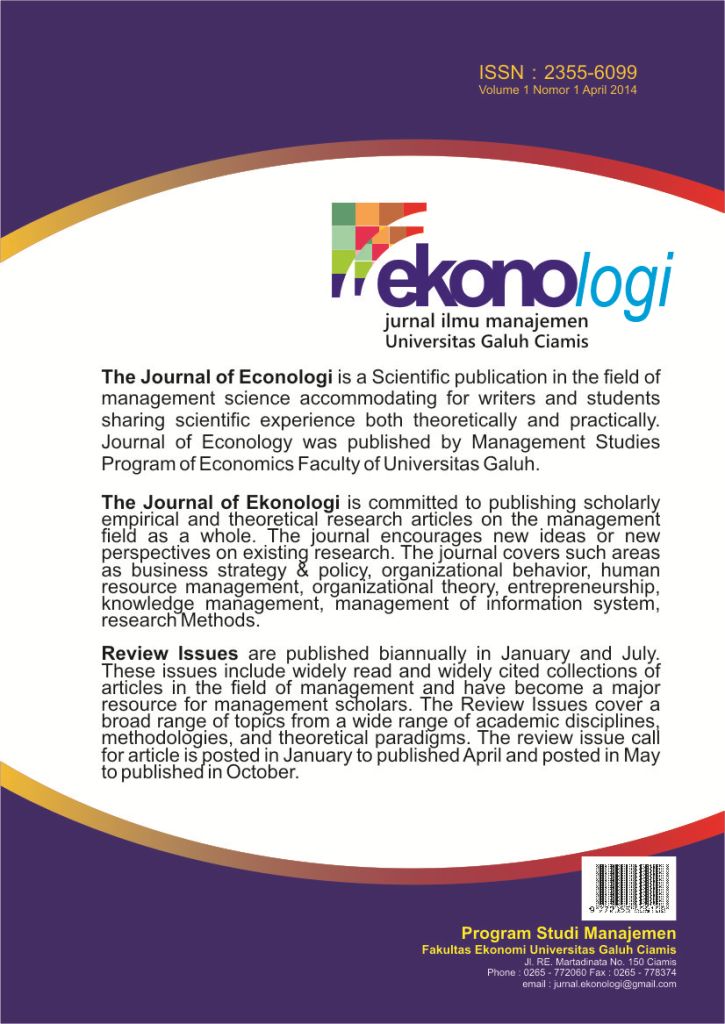 Jurnal Ekonologi Ilmu Manajemen
The Jurnal Ekonologi Ilmu Manajemen (JEIM) is a Scientific publication in the field of management science accommodating for writers and students sharing scientific experience both theoretically and practically. Journal of Econology was published by Management Studies Program of Economics Faculty of Universitas Galuh.

Review Issues are published biannually in January and July. These issues include widely read and widely cited collections of articles in the field of management and have become a major resource for management scholars. The Review Issues cover a broad range of topics from a wide range of academic disciplines, methodologies, and theoretical paradigms. The review issue call for article is posted in January to published April and posted in May to published in October. our journals have been listed in ISSN Print: 2355-6099 and Online ISSN: 2620-6188.
View Journal | Current Issue | Register
26 - 28 of 28 Items