JALL (Journal of Applied Linguistics and Literacy) is an academic biannual journal, published in February and September. The journal contents are published by English Education Program, Faculty of Teacher Training and Education, Galuh University. JALL welcomes research-based articles within the fields of Applied Linguistics and Literacy that have never been published elsewhere. The objective of the journal is to provide a forum for lecturers, teachers, researchers, academicians, and students to deliver and share knowledge in the form of empirical and theoretical research articles. 
The journal welcomes contributions in such areas of current analysis in:
Language Pedagogy;
Language Planning and Policy;
Language Teacher Education;
Language Testing and Assessment;
Second Language Acquisition;
Classroom Discourse Analysis;
Translation and Interpretation;
Pragmatics in Language Education; and
Literacy in Language and Culture Education.
 ISSN: 2598-8530 (online)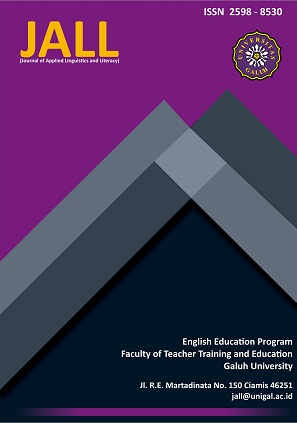 Announcements
Call for Papers: JALL Vol 8, No 1, February 2024

JALL (Journal of Applied Linguistics and Literacy) welcomes article submissions.

Since Vol. 6 No.2, 2022, JALL (Journal of Applied Linguistics and Literacy) has been accredited by the Ministry of Education, Culture, Research, and Technology of Indonesia with Sinta 4. The recognition was published in Director Decree (No. SK: 0041/E5.3/HM.01.00/2023).

We sincerely invite you to submit your excellent research papers and show the critical and original views on Applied Linguistics & Literacy.

Submission Deadline: January, 10th 2024.

If you are interested in our journal, please follow the Author guidelines, use the new article's template, and submit it online at Online Submission  

If you have any questions, please contact us at: 085223665638

Posted: 2023-09-01
Vol 7, No 2 (2023)
Table of Contents
Articles